Modern Catholic Cemetery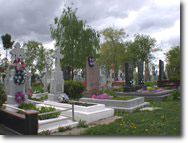 Tovste's modern Catholic cemetery was inaugurated in the 1960s, replacing the old cemetery on the other side of town that had served Ukrainian and Polish residents for at least one hundred years.
The present cemetery is situated on the north side of the public road leading to Lisivtsi, just to the east of the Jewish cemetery.

The frequently-used burial site is very orderly and appears well maintained, with the inscriptions on most tombstones plainly visible.