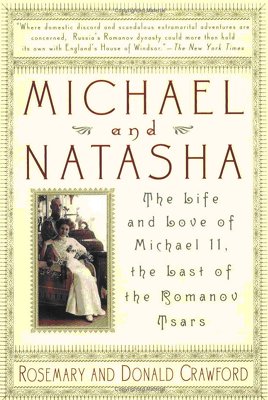 MICHAEL AND NATASHA is both an astonishing love story and an illuminating look at the last glorious days of the Romanovs and the brutal revolution that ended their reign. Based on private diaries, letters, and documents long hidden in the Soviet archives, it sheds light on an extraordinary tale of enduring love and ultimate tragedy that, until now, has never been told. He was the Grand Duke Michael Aleksandrovich, the tall, dashing brother of Tsar Nicholas II. She was Nathalie Wulfert, a beautiful, elegant, intelligent, divorced commoner, and the wife of a Guards officer under Michael's command. Everything was wrong...yet for Grand Duke Michael, it was love at first sight-an obsession that would lead to disgrace, humiliation, and exile.
Much of Michael and Natasha's story is told in their own words, through hundreds of hitherto unpublished letters. Here they reveal their passion, their joy, and their despair as they are banished from their own country, bathed in scandal in the courts of Europe, and forced to suffer cruel separation. But more than a love story, MICHAEL AND NATASHA is a historical drama played out against the elegant background of a bygone age and a world at war. It is a spell-binding account of Michael's return to Russia, his reputation as a war hero, the downfall of Nicholas II, the strange and short reign of Grand Duke Michael, and the cruel and tragic end of one of the most colorful eras in world history.

Amazon.com. Book Description; last accessed on 7 May 2006.